Dr. Sylvia Udokoro Nwakanma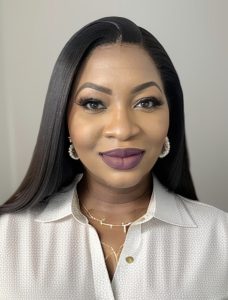 Dr. Sylvia Udokoro Nwakanma, a dedicated and board-certified Psychiatric Mental Health and Family Nurse Practitioner, is the visionary founder and esteemed CEO of Mercie Health. With a passion for patient-centered care, Dr. Nwakanma warmly welcomes both local and virtual patients into her practice, where collaboration is key to achieving the best possible healthcare outcomes.
She completed her residency under the esteemed guidance of board-certified psychiatrist, Dr. Justin Anyokwu, MD. Her journey to becoming a renowned healthcare provider began with an Associate degree in Nursing (ADN) from Abraham Baldwin Agricultural College (ABAC), followed by a Bachelor's of Science in Nursing (BSN) from Clayton State University. Dr. Nwakanma continued her academic pursuit, earning a Master's of Science in Family Practice from South University and a prestigious Doctor of Nursing Practice degree from UMASS-Global in Irvine, California. Her commitment to expanding her expertise shines through in her dual focus on Family and Psychiatric mental health.
Dr. Nwakanma's illustrious career spans over 14 years, commencing as a registered nurse with diverse experiences across intensive care units, telemetry, medical-surgical wards, renal care, and hospice. As a Nurse Practitioner, her expertise extends into Family medicine, Psychiatric mental health, Addiction medicine, and Men's health, with a specialization in hormone replacement therapy.
Beyond her professional accomplishments, Dr. Nwakanma finds joy in watching documentaries, avidly following the FIFA World Cup, and delving into the world of literature. Her dedication to the field goes beyond patient care; she also serves as the Director of the psychiatric mental health clinical program and takes pride in mentoring PMHNP students, nurturing the next generation of healthcare professionals.
In her own words, Dr. Nwakanma's philosophy revolves around the simple yet profound belief of ensuring good health, for goodness sake!